Wooden Faucet Handles
Making wooden faucet handles with my device on it for serving at events
Philip de Greylonde published on
Wooden faucet handles
I decided that I needed to make faucet handles for serving my beverages at events. I will be making them out of black walnut that I rescued from a burn dumpster, and will be finishing them with BLO and Shellac. They will have my SCA badge painted on them as well.
Materials
You will need the following things for this project:
3/8-16 UNC knife thread inserts
1/2" forstner bit + drill
Glue
Wood
Sander




Process
For this project, I am using a block of what I believe to be black walnut that I rescued from a burn pile ages ago.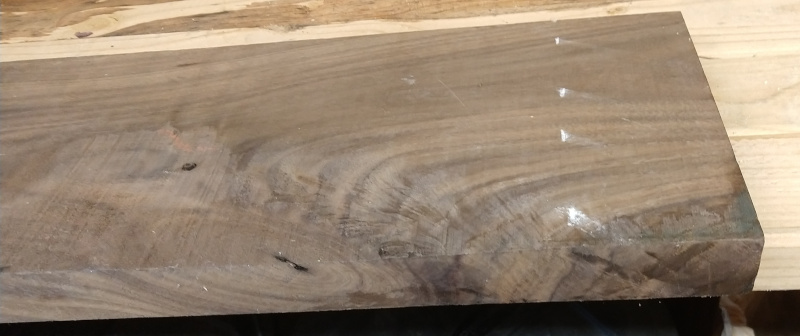 I made a template out of cardboard to mockup the size and general shape before cutting into any wood as I do not have any to waste.

I'm marking out the handles on the wood using chalk. Chalk is easily removed and can be sanded away if needed. I've decided to make them 3" across at the widest point, and around 1.5" across at the bottom. They are approximately 8" tall and ~1.5" thick before shaping.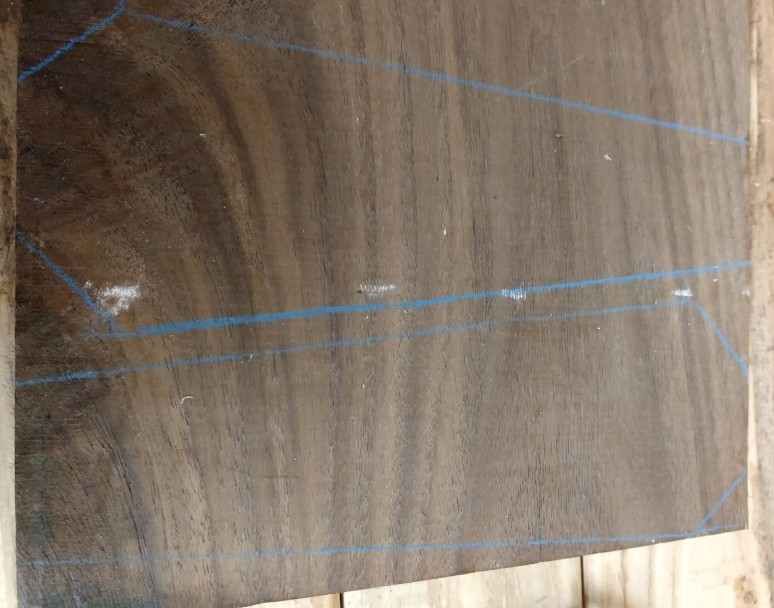 I cut them roughly to shape on a chopsaw, leaving them fairly rough, but thankfully with very little tearout or chipping.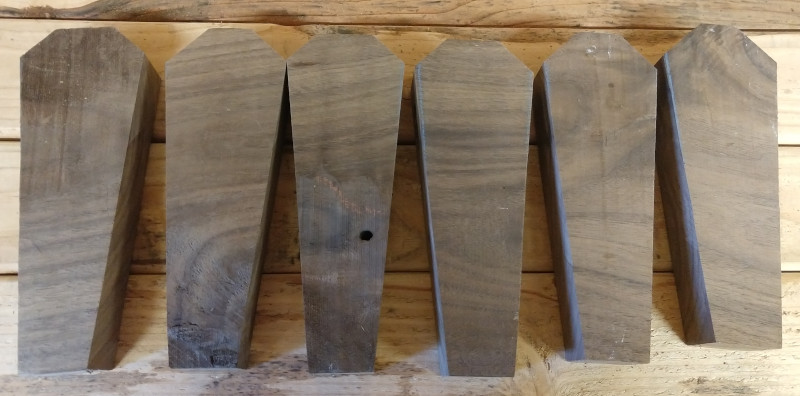 I then began sanding them into the final shape that I wanted. Some of them will have a rounded top, and some will be coffin shape.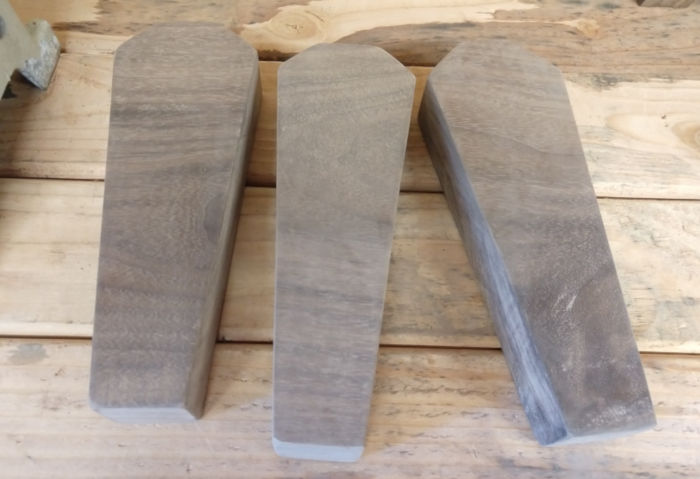 I then cleaned with mineral spirits to get most of the dust out of the pores.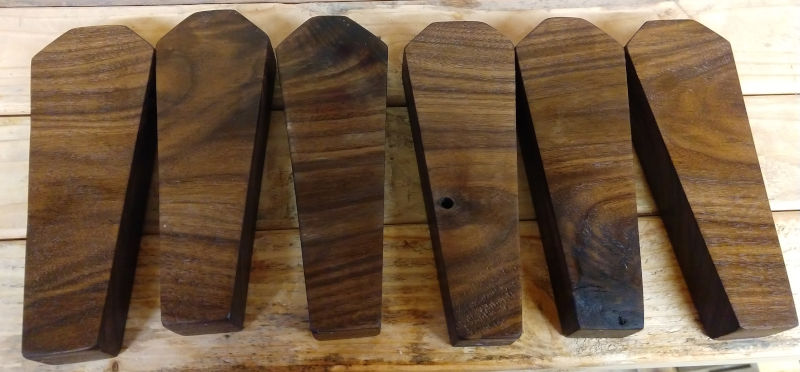 After letting the mineral spirits evaporate out overnight, I applied a finish of boiled linseed oil. I will be applying 2 coats.
I used a 5/8" forstner bit to drill out where the threaded inserts will be put into the handle.z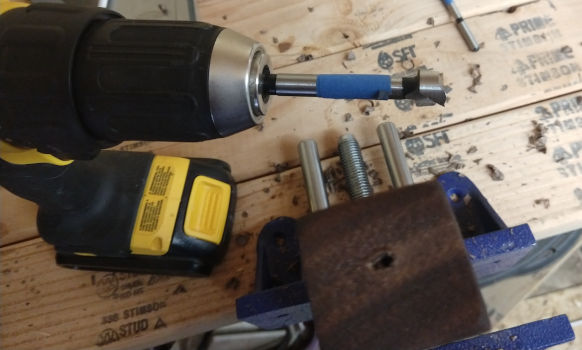 2-part Epoxy was used to hold the brass 3/8-16 USC thread inserts in the handles. This was due to the large amount of tearout that was caused by trying to screw the thread inserts into the handles.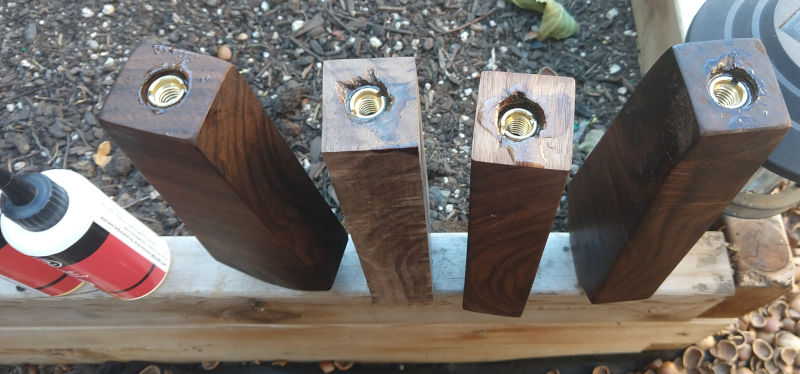 The handle threading worked out really well, and I was able to successfully pour beverages during initial testing.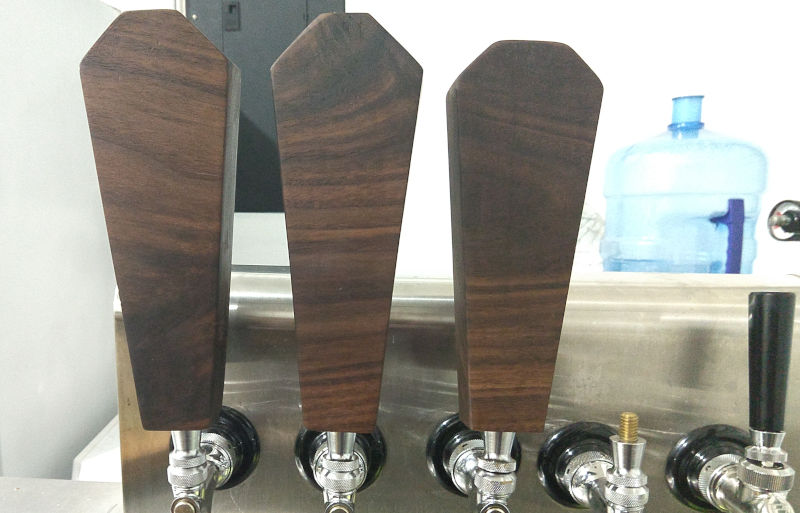 I haven't finished the project yet, this project page will be updated as I go along. (Last update 10/20/18)